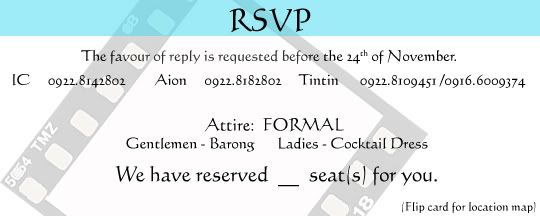 Répondez S'il Vous Plaît - (RSVP) French for Please Respond. Please respond - not respond if you are coming or respond if you are not coming. BUT - PLEASE RESPOND! I was once told it stood for:
Respond so VERY promptly!
Depending on your season of life, this time of year you may find your mailbox filled with a daily assortment of invitations to graduation parties, baby showers and/or wedding invitations.As the mom of a soon-to-be high school graduate, I am getting a humbling dose of what our party plan hostesses experience.
Despite asking for an RSVP, at three days prior to my daughter's graduation party - I have only a slight idea of how many guests to plan for. Many friends and family have yet to be in touch and many more are "still deciding". Not only is this maddening in terms of preparation, but it is disappointing. In an ideal world everyone comes to MY child's event, at the exclusion of all other conflicts. Yes, this is an unrealistic expectation I know - but a mom can dream, right?
The thing that I am finding is making a difference, however, in terms of attendance is the personal contact I have been making with people. It goes something like this -
"Hey, by the way, are you going to be joining us on Sunday?"
"I don't know - we still are trying to decide because (blah, blah, blah yah-dee, yah)…"OK, well it is going to be a blast - a great excuse just to sit around, eat and enjoy one another's company. We would SO love to see you."
"Oh, I know - we are really going to try - I'll let you know for sure as soon as we know what's happening."
(Can you see how a script similar to the one above might be good to share with your hostesses when they are inviting their friends to their product party?)
Now comes the part where I would love a `party consultant' to step in. The day before the party it would be SO nice if someone else did a quick follow-up phone call to all the `maybe's' and `haven't heard from yets' on my guest list and just said…
"Hi, I'm the consultant for the graduation party on Sunday. Our hostess is just making final preparations for food and seating and wanted to know if you'd made your decision about coming yet. She would REALLY like to see you!"
How much easier and less awkward THAT feels than talking to my friends and family once again!
Some of you have written in to ask HOW you get the invitation list from your hostesses in order to do day before reminder phone calls to her guests. The point in this graduation party anecdote is to help you make a mental paradigm shift. When YOU truly wrap your head around it, I promise that your attitude will change and your challenges in this area of your business will become a thing of the past.
1. Making reminder calls is as much a part of your job as bringing your samples in, setting up your display and selling your product. It is part of the service that you offer - period.
2. Once you truly `own' #1, you will have a different attitude when coaching your hostesses. Your attitude MUST and will be - "this is what I do, this is my service to you. The day before reminder calls must be made. If you do it, it will take all day. If I do it, it will take me 45 minutes!"
3. REPEAT AFTER ME - A phone call or personal contact TRUMPS an e-vite hands down. Even an answering machine message left is more effective than an e-vite. E-vites are too simple to decline. The importance of THIS FACT when coaching your hostesses again cannot be denied. An e-vite is OK as a supplemental invitation, but not the primary invitation.
Your job is to help your hostess have the most successful party she can. The only way that this can happen is if she works WITH YOU to help her guests feel like they would truly be missing out on something wonderful by not attending. The last thing any of us wants is a disappointed hostess. Time and time again our hostesses can go through tons of preparation for their party, only to have mediocre results. This is NOT what you want. Once you begin to experience success getting your invitation lists from your hostesses and doing those calls for her, you will find that it will become the `norm' for you and no longer a challenge