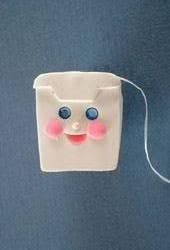 Super info from The Success Factory...
The last time I went to the dentist, I had a new hygienist. It was interesting. For most of my adult life, I have been nagged, nudged and reminded by my hygienist to floss my teeth. I always leave the dentist office all motivated to floss and inevitably the motivation lasts about a day and a half. Once, I even had a hygienist ask me a trick question … "What kind of floss do you use - waxed or un-waxed?" "Hmm…" - (which answer gets me off the hook…and is my hesitation a complete giveaway that I hardly ever floss?).
Anyway, I digress. So, I had this new hygienist and as she cleaned my teeth, we talked about whatever it is you talk about while your mouth is pried open and someone has both hands in it. The subject of my daily two mile walk came up. At the end of my cleaning, she, like all the others, encouraged me to floss my teeth daily (not just a couple of times a month or after I have a piece of popcorn stuck in my teeth). However, she said something that made sense to me - she said - "If you have what it takes to walk two miles, outside, no matter what the weather is, everyday. I don't understand why you can't take 30 seconds to floss." This, for whatever reason, made complete sense to me. And associating flossing with daily walking - helped me to turn it into a habit.
So, how about recruiting? Perhaps you are one of those consultants who sponsors people easily and all the time. To you, it is a habit. It is something you do without even thinking about it. If this is you, you are to be congratulated. However, for many new consultants, recruiting is often considered as something to be done later, after prospecting and selling skills are developed. Because they wait to begin recruiting activities - that initial "new consultant enthusiasm" that so often interests a prospect into looking more closely at the opportunity, is lost. This makes almost as much sense as waiting until you have to have a root canal before deciding that flossing your teeth is a good idea.
What will it take to make recruiting a habit for you? Recruiting needs to be an activity that you can do easily and without thinking - just like brushing and flossing your teeth, eating or taking a shower?
Pinpoint what it is that makes you hesitate to talk about the opportunity to people on a regular basis. Are you unsure of how to talk about the business to others? Perhaps you are afraid of creating what you perceive as competition for yourself. Take these concerns to your recruiter or upline manager. Let her know how you are feeling. Most managers are more than happy to help you begin to build your team by talking to prospects with you so that you can learn. And as far as creating competition for yourself - again - with your manager's help, you will find that there are not enough people to properly service all available prospects.
Start with baby steps. Begin by just talking to one stranger everyday. Do that for a couple of weeks. Once that has become a habit, expand and practice handing out a business card to that new person you talk to. Then, planting seeds about the business opportunity and scheduling recruiting appointments. By making these recruiting activities one of the things that you do each day - soon - you will have developed a new habit. With help and with practice - team building will become a business habit that you do without even thinking about it - just like flossing your teeth!