After catching up on some of my favorite bloggers - aka The Glamorous Bee - I noted that she was talking about Roxy's new fragrance to go along with their line of clothes. I loved her comments and of course the notes she so graciously gave out that we can obviously doctor up and create our own slice of Roxy heaven at a smidgen of the price! Read
here
for a fun new project!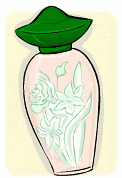 That also got me looking at some other blogs such as
Beauty Addict
. I noted her great comments on Tom Ford's new male scent and thought I might try something similar myself for hubby: "Turns out Tom Ford for Men is a classic men's fragrance that I found to be really well done and very wearable...for me. I had been planning on passing the bottle along to a lucky man (my cousin, ha ha) after a couple of test sprays, but now I don't really want to give it up. Now that the weather has cooled off, I'm loving the woods, violet leaf, and oakmoss in this scent. I actually prefer it over Black Orchid, which was doing some kind of weird pineapple thing on my skin."
So there are a couple weekend projects for scent concoctions. I also tried out the Candy Cane recipe in my home warmer and will try a couple others before deciding which one will be wafting it's yummy home fragrance at the LWL Holiday Showcase this weekend! If any of you have any favorites don't be shy to share! Happy December in just a couple days!!!