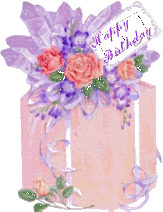 So we are nearing the 2 month mark from my birthday which is June 15th. There are 2 specific things I want for MY birthday more than anything...
Well there is this as well, but I'm thinking more for my 40th...
Ok so back to reality for a moment...
I want to have lost another 20 lbs by June 15th and look amazing on the special day where I plan to rent a dinner cruise for friends and family with a DJ - which I am currently working on and doing really well (6 lbs already in a little over a week).
The other is to celebrate the
50th Hive Member
!

And I know the team can TOTALLY help with that present. Do you realize if everyone in The Hive hired 1 person we'd be there? If just 16 people in The Hive made UBS we'd be there?! It's amazing how little it takes! I am going to work SUPER hard to bring in 10 new members myself. A huge and exciting goal in its own...
BUT - if you really want me to have the
BEST birthday ever
and share my presents (meaning anyone that assists in this effort gets a bday present from me!) than we need to get it going on! I know that Lauri has 2 people in the works right now which gives us 27 and Kelsey has 2-3 as well which gets us to 30! See how quickly it's going!!! LOVE IT!
So your fearless leader (wow that's funny) is asking for her dreams to come true by 6/15 and I want to know who's with me? LEAVE A COMMENT PEOPLE!
LOVE YA XXOO