Today, we continue with our topic of customer service. Here is a potpourri of specific ideas that you may want to consider using to offer excellent customer service to your client base. PLEASE, don't try to use all these ideas at once…it could prove hazardous to your health!
- At your parties, pass out manilla file folders to your customers containing their order form and brochures. Your contact information should appear on the tab. Ask them to file it with their important papers so they are always able to be in touch with you!
- When doing a customer service call, be sure you ask your customer to list your name and phone number in her personal address book, so if they ever have any product issues, they can be in touch with you. Have them do this while you are on the phone!
- Refrigerator magnets NEVER get lost. Consider handing out these as your business card. You can buy business card sized magnets at an office supply store.
- At your parties:
a) Build good customer repoire by showing interest in customers personally (and making notes to yourself about that customer on their order form when you get home.
b) Be sure customers know they can online order from you anytime
c) If you have a personal website, be sure they know what your address is.
d) Be sure you are calling and personally thanking people who placed outside orders at a party. They need to know what services you offer and how to be in touch with you as well!
- "Extras"
a) Offer to wrap and deliver your products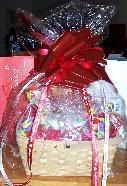 b) Don't forget personal shopping appointments!
c) Depending on what products your company sells, consider "gift bundles" (specially priced) or gift baskets. (UB Party Special!)
d) Once or twice a year, host a "hostess appreciation" brunch, evening wine and cheese or special luncheon. This will be a special thank you from you and give hostesses a "sneak peek" at the new product line. SELL this as one of the advantages of being one of YOUR hostesses! Consider doing this alone or better still as a team activity!
Throughout the next weeks we will continue to give you additional ideas on customer service, as well as some specifics for helping you with those phone calls! Hopefully these ideas will get you started!